Stop Collars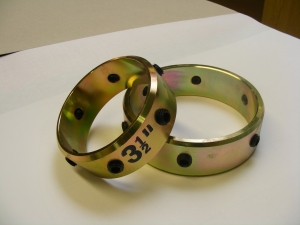 General Description
Enmech has a wide range of Stop Collar designs in various configurations ranging in size from 2 3/8" to 20".
Normal duty, heavy duty, square shouldered, single bevel and double bevel are some of the options we can offer.
If you require a different variation of stop collar we can develop and manufacture to your exact specifications.
Specifications
Size range:                                                                                  2 3/8" to 20"
Material:                                                                                       HFS steel pipe to EN10210 S355J2H or                                                                                                       equivalent.
Finish:                                                                                          Zinc Plated or Polyester Powder Coated                                                                                                       (optional colour choice)
Screws:                                                                                        Cup point socket set screws, Metric or                                                                                                       Imperial
For further information contact us at sales@enmech.co.uk